Andrew O'Brien, Global International Relations Representative, American State Department .


He has worked with Kerry Minister at Senate's Office in Massachusetts State, the US Congress, he played a major role in policies and discussions related to small businesses, labor organizations, veteran groups ... and he was honored as one of 10 outstanding young leaders of the City in 2007. O'Brien is also a Vice-Principal of Massachusetts Boston University from 2005 to 2007. He has a Bachelor's Degree from the University of Massachusetts Amherst and a Master of Administration from Northeastern University.
Nguyen Bao Hoang, CEO of IDG Ventures Investment Fund at Vietnam.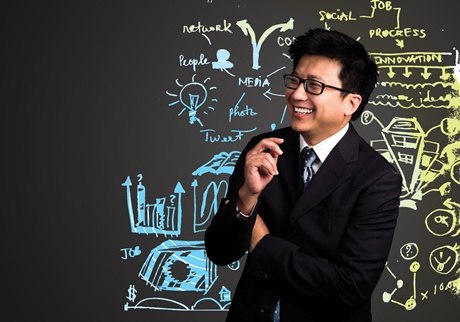 Studying Master of Business Administration at Business Management School Kellogg (Northwestern University). In 2000, he returned to Vietnam to took the CEO position of U.S. Telecommunication Company VITC, he met billionaire Pattrick J.McGovern - founder and chairman of International Data Group IDG in 2003 here, with himself passion, enthusiasm and love for his country, he convinced IDG's 300 top leaders investing in Vietnam, his highlight investment business: VinaGames (forerunner of VNG Corporation), JSC Location Business (founder NhomMua.com), VCCorp (owner of Bamboo website, CafeF...), PeaceSoft (management of e-commerce sites and ChoDienTu.vn and NganLuong.vn) ...
Than Trong Phuc, CEO of Technology Investment Fund DFJV, (Vina Capital).


Accumulating 14 years of working at Intel in the USA and nearly 10 years in Intel, in charge of being a General Director with business and marketing, he was regarded as a contributor in entering the one billion USD priced factory of Intel group into Vietnam and raised the revenue of Vietnam Intel five times higher, considered as the Asia's fastest growth bringing attractive opportunities to professional engineers. DFJV Investment Fund under the his management has been invested into 10 companies of technology, communication and telecomunication such as Gapit ( a kind of cellphone service), VON ( direct information gate with 3 websites TimNhanh.com.vn, YuMe.vn và KiếmViệc.com) , Chicilon Media ( outdoors Ads), mobizCOM ( a kind of cellphone service), Yeah1!TV ( TV channel for adolescents)
Thieu Phuong Nam, Senior Director charge of business development at Qualcom Southeast Asia and Pacific.
Graduated from Technology Ho Chi Minh University in 1988, he is also a semiconductor master at Saint Petersburg University and doctorate in Internet Protocols at Transport Moscow Institute. More than 10 years working in Intel and 2 years in IBM Vietnam, he was a big part in bringing the Internet to Vietnam, in the highest position as General Manager of business development, he became a household name in high-tech world, "the Intel" and "architect" is what newspapers often mentioned to him.
Edith Yeung, Founding Partner at RightVentures, USA.
Prior to joining RightVentures, Edith founded BizTechDay, the insightful voice of news, events & research for the SMB internet market and SFentrepreneur, San Francisco's 3700+ member-entreprenuers. Edith has appeared on CBS, NPR, Wall Street Journal and is frequently quoted in Read Write Web, Small Business Trends and others. Besides, Edith also speaks frequently on mobile, women and international entrepreneurship. She is passionate about helping founders of tech start-ups.
Let's DEMO ASEAN 2013 show all the famous people who will attend to the workshop. For further information and biography of them we can find out here (http://demo.org.vn/en/about/conference/demo-2013-conference-agenda) :